PREFABRICATED TIMBER
FRAME HOUSES
PREFABRICATED TIMBER FRAME HOUSES
We are a manufacturer of modern pre-fabricated timber frame houses. The RH Haus System structures we offer are built on a modern Rondek production line. Depending on the finishing standard, they comply with requirements for energy-saving and passive buildings.
The structural highly-processed timber combined with thermal and sound insulation materials forms a system for constructing balanced structures of walls, floors and roofs. This balance means the ideal combination of most important aspects of the modern building, oriented at ecology and energy-saving.
An integral part of the system is the innovative technology of reinforcing the most important structural elements with carbon fiber inserts. It allows you to level the impact of naturally occurring wood defects on the load capacity and rigidity of the structure and to reduce the cross-sections of these elements, which reduces the adverse effect of thermal bridges.
We offer elements and prefabricated houses for a WIDE GROUP of recipients as:
Prefabricate
s – elements and structures for installation, for construction companies and developers.
Frame houses
– ready-made houses from design, through production under RK Haus System up to the installation as a shell, for individual clients.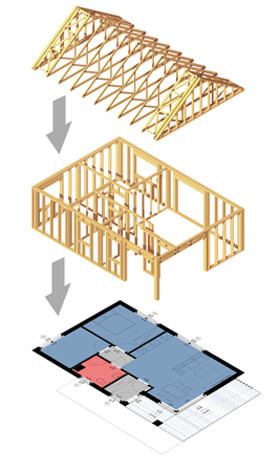 Why you should build your house
with RK Haus System
NATURAL TIMBER. Structural elements and insulation mats are produced from a fresh, natural conifer. They have no harmful substances. They allow to erect buildings that have all the properties of this excellent material.
COLD PROTECTION. With excellent insulation characteristics and a very good heat accumulation, our buildings comply with requirements for energy-saving and passive structures.
HEAT PROTECTION. Our houses have a certain type of natural air conditioning. The insulation materials we use block permeation of a lot of heat to the inside in the summer.
RAINWATER PROTECTION. The external lining we use have hydrophobic properties – they repel moisture. They are ideal both to be used as a ventilated façade element and for under the plaster.
NOISE PROTECTION. It is one of the major features of structures erected with RK Haus system. With the use of insulation materials of relatively high density and excellent vibration damping capacity, our buildings provide to the users a pleasant peace and quietness.
REASONABLE PRICE. Cost of erecting our house is comparable to traditional house of stones. But the maintenance cost is much lower.
NATURAL MICROCLIMATE.Our houses can adjust moisture in rooms. This is possible with the diffusively open materials. It prevents condensation of water steam in the partitions and promotes durability of structural materials. It also largely contributes to the high quality of air inside the buildings.
QUICK CONSTRUCTION. Mounting of the whole building lasts few days and there are no standstills between next stages. Short construction time is also thanks to the high prefabrication of our elements.
HIGH QUALITY. With the automated production process, we can minimize the human effect on the final product. Our houses are designed with high precision and there is no place for workmanship errors. Houses have the same, and in some respect, even greater durability than traditional bricked buildings.
SAEFTY. It is an absolute priority. Every structure is designed individually. We use the best carpenter joints that have the highest efficiency in resisting any types of loads. The materials of our buildings are also fire-proof. They have the gentle, slow and controllable fire reaction – they do not melt and fall from the façade during fire and emit much less smoke than the conventional insulating materials.
TECHNOLOGY
RK Haus System is a complex, high energy-efficient building system that offers structural elements, heat insulation and sound insulation. The design of the whole building is a high-quality timber that complies with current design standards. Heat and sound insulation are provided by plates and mats made of wooden fibres. Components are manufactured by closed prefabrication – walls are finished from inside with a gypsum-fibre board and with an elevation layer from the outside.
DESIGN
The space inside a partition is filled with sound insulation. With the use of unique properties of timber-derived materials, RK Haus System forms a healthy microclimate inside the rooms. Buildings are produced, designed and erected by Wiązar system and their authorized installation groups. They may have various intended use such as residential, public utility or industrial.
WALL STRUCTURE
1. Fibre and gypsum board
2. steam insulating foil
3. timber fibre insulating mat
4. Wall post
5. Hardened insulating board for external plaster
6. External plaster
7. Hardened bituminized insulating board for façade ventilated with gaps
8. wooden lath
9. Elevation lining
10. Hardened insulating board waxed for façade ventilated without gaps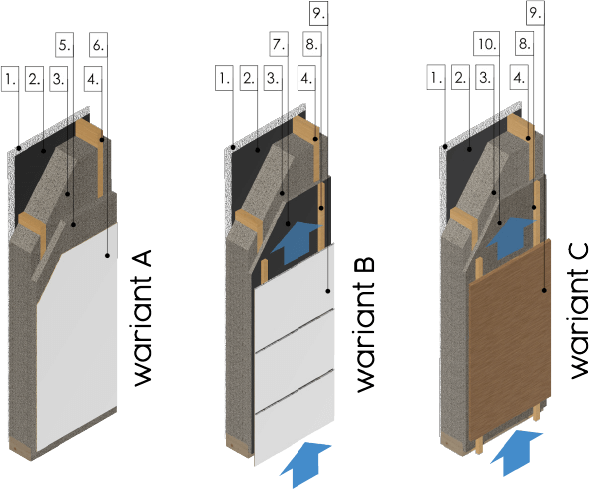 Pragniemy poinformować, iż firma "WIAZAR-SYSTEM" ROZWADOWSKI & KOŁODZIEJ SPÓŁKA JAWNA,
uzyskała dofinansowanie dla projektu pn.: "Promocja marki RK Haus System na rynkach zagranicznych w 2020"
Projekt wdrażany jest w ramach Programu Operacyjnego Inteligentny Rozwój. Oś priorytetowa: 3 Wsparcie innowacji w przedsiębiorstwach. Działanie: 3.3 Wsparcie promocji oraz internacjonalizacji innowacyjnych przedsiębiorstw. Poddziałanie: 3.3.3 Wsparcie MŚP w promocji marek produktowych – Go to Brand. Projekt realizowany jest od 1 stycznia 2020 r. do 30 listopada 2020 r. Celem głównym realizacji niniejszego projektu jest promocja marki RK Haus System na rynkach międzynarodowych, w celu uczynienia jej rozpoznawalną oraz zwiększenia przychodów eksportowych Beneficjenta.
Wartość projektu: 188 800,00 zł
Dofinansowanie projektu z UE: 141 600,00 zł.